------------Jazz Violinists-----------
---
Papa John Creach (1917-94)

Papa John Creach was arguably the best known blues violinist of his century, largely because of his association, not with a blues band, but with psychedelic rockers Jefferson Airplane and Jefferson Starship.
He began playing violin in Chicago bars in 1935, and made his living playing cabaret spots, ocean liners, and occasional film appearances; he described his profession modestly as "sawing wood".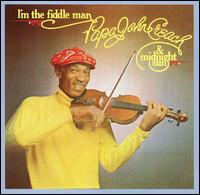 In 1967 he met rock drummer Joey Covington, who was struck not only be Creach's playing but also by his great gentlemanly charm. The friendship led to "Papa John" recording and gigging with the band Jefferson Airplane, which later became Jefferson Starship, and the spinoff group Hot Tuna, a much more rootsy blues combo.
These collaborations lasted from 70 to 74, and left him with a ready audience for his own blues albums which followed, such as "I'm the fiddle man", "the Cat and the Fiddle", and perhaps his best work, "Papa Blues", released in 1992.
Papa John Creach's violin style
His playing is raw and rough edged, working very much within the minor blues scale. He makes use of short repeated phrases, an aggressive tremello, wide vibrato, frequent trills and occasional wild upward swoops.
---
RETURN TO CHRIS HAIGH'S JAZZ VIOLIN PAGE
RETURN TO JAZZ VIOLIN LESSONS PAGE