STROLLING MUSICIANS!
Are you looking for strolling musicians for a party, wedding or some other function?

My name's Chris Haigh and I'm a fiddle player based in London; I do all sorts of gigs for all sorts of people in all sorts of styles; the strolling violinist is one of the many roles I find myself taking.

It's a popular choice for a lot of functions because it's flexible, unobtrusive and relatively inexpensive.

It can be either solo violin, or with one or several other musicians; the accordion makes a particularly good combination with fiddle, but guitar is also a popular choice.

Among the jobs I've done recently- playing for the Lord Mayor's Flowershow at the Guildhall (see photo left); with Alan Dunn (accordion)- we were given a free hand musically so we racked our brains to think of as many flower- related tunes as we could.

Here's a few more examples of strolling musician jobs I've done recently:

- playing for the reception for a bar mitzvah in the gardens of a country house, doing klezmer with a clarinettist:

-playing for a French Market playing (not surprisingly) French tunes, with an Accordionist:

-strolling among the guests for a Wild West theme party, with a bluegrass band;

-playing solo Irish fiddle for a garden party;

-playing gypsy music for Princess Annes's birthday!

-strolling among the lunching diners at a West End hotel, playing schmaltz and light classical, with a guitarist;

-solo gypsy violin around the tables for a Valentines dinner in a restaurant.......and so on!
We recently played French music in the entrance to a Kent Manor House as the wedding guests arrived. A letter from the bride said.."Just wanted to write a quick note of thanks for playing at our wedding - my favourite memory of the day is standing outside, with you playing, as the bus arrived with the guests in it. My dad said it was a real 'wow' moment. Thank you for helping to make our day the best"
Emma
And here's a note from a bride and groom whose reception we played for:
Dear Clare
Please pass on our thanks to the two lovely gentlemen who played at our wedding on Friday. The music was brilliant fun and created a wondefully joyful atmosphere during our drinks reception. They were professional and looked so smart!
Best wishes
Karen and Julian
---
We played for a wedding at a delightful old oub in Oxfordshire, playing French cafe music for the French bride. Kate Middleton was among the guests! We got this note of thanks:
Dear Chris and Alan,
I wanted to say a big thank you and to let you know how much we greatly appreciated your performance at our wedding reception last Saturday. We were particularly pleased that you could provide us with french cafe styled music which delighted both my side of the family as well as the rest of the guests. The music you played throughout the day was perfect and helped us set the laid back tone and relaxing mood we were trying to create and added the "French touch" which was important to me (Alan's beret was also a very nice touch!). All this contributed to make the day stress free, great fun and all in all a great success! We thoroughly enjoyed it!

Dorothée
---
At the wonderful Canizarro House in Wimbledon we played a wedding for a group of Italians who happily sang along to our repertoire of Neopolitan favourites. The groom sent us this note:
I just want to say thank you for Cafe du Monde's superb contribution to the day. Everyone was thoroughly impressed with your performance, range of repertoire and the way you joined in and became an integral part of the event. You truly added an extra dimension.

If ever Cafe du Monde is looking for commendations I'll be delighted to provide one.

Thank you again.

Michael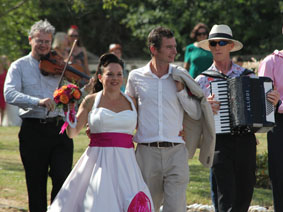 ---
So what does it take to be a good strolling violinist?
Well firstly it takes a bit of bottle! There's lots of fine musicians who are happy enough on a stage or behind a music stand, but put them out there among the punters and they shrivel up and die! It takes a lot of confidence, plus a willingness to mix, mingle and chat with people who're intersted in what you're doing. You've also got to accept the fact that in this situation people may enjoy the music but they haven't come to see you- it isn't a concert, and many people will completely ignore you . They're not being rude, honest!

Secondly you need a good tone, a powerful instrument and a decent technique; there's no PA for the strolling musician- what you see is what you get. And if it's solo violin the job is tougher still- you need to have a good understanding of chords and double stops so that you can provide a bit of harmony for yourself and stop it sounding too lonely.
Thirdly you need to have hundreds or maybe thousands of tunes in your head- you can't be dragging a music stand around with you in this situation; I've spent the last twenty years or so building up a huge repertoire of all sorts of fiddle music for occasions like this; gypsy, Russian, jazz, klezmer, showtunes, French, Italian, Polish, Irish, Scottish, American. I love them all, and get a lot of enjoyment from digging the more obscure tunes from the back of the memory banks.
It's important to have a professional attitude- to turn up on time, smartly and appropriately dressed, sober and- what was that other thing? Oh yes- don't swear at the guests!
Lastly, unless it's a solo gig, you need the right choice of accompanist; I'm fortunate in knowing lots of great musicians- accordionist, guitarists, clarinettists,singers, double bass players and so on, who are happy to this kind of job with me; I take a lot of pride in putting together exactly the right band for the right occasion.
If you're planning some kind of celebration or function and might want some strolling music- please get in touch .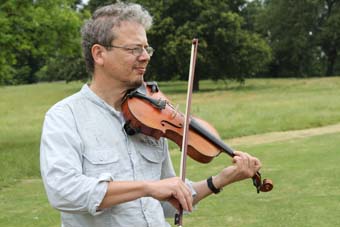 ---
The ideal combination for these kinds of jobs is fiddle and accordion; both instruments are portable and musically very flexible. I've been working for many years with accordion ace Alan Dunn; together we call ourselves Cafe du Monde, and we have a huge repertoire ranging through English, Irish, Scottish, cajun, country, showtunes, light classical, jazz, gypsy, Russian, Jewish, Latin, French and Italian.

Here are some sample mp3's:

And here's a clip of Alan and myself playing a French waltz , Under Paris Skies

.

And here we are at the Cadogan Hall, playing "Khosid wedding Dances"

Here we are at an Oxford College, waiting for the guests to arrive, and playing the old Scottish tune "Marie's Wedding"

Here we are at a military base, playing at a "Revolution" themed dinner. We were lucky enough to find

someone who knew the words to Guantanamera!

Here's a cartoon of myself and Alan by the excellent Ric Machin: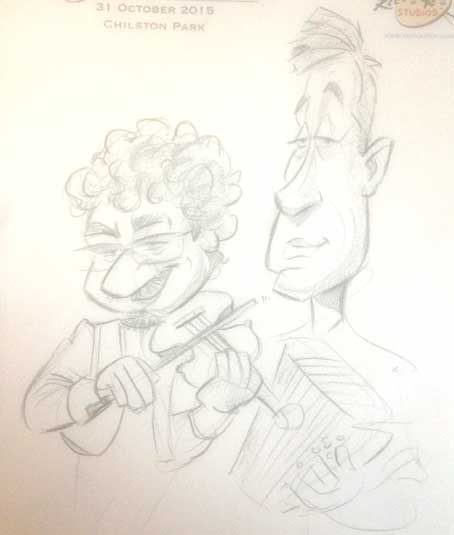 You can Email me : Chris@fiddlingaround.co.uk
Or check out the rest of my website, with links to some of the bands I play with, a rather baffling CV, and more than you ever wanted to know about different styles of fiddle playing; www.fiddlingaround.co.uk