__________________
About Myself (Chris Haigh), and the bands I work with
_____________
Fiddle Lessons
Most of my teaching is of jazz violin, for which I have developed a unique and very accessible method, ideal for the classical player who has good technique but is terrified of and baffled by the idea of improvisation. My teaching is very flexible, will work to your own level and will give you exactly what you want to learn.
Look Here for more information on my jazz violin teaching.
I also teach country, bluegrass, Western Swing, rock, gypsy, klezmer and east European fiddle styles. I can teach some Irish and Scottish fiddle, but there are plenty of people better qualified in these areas.
I teach from home in Forest Gate, East London, and charge £40 an hour. Dates and times can be flexible; you can book on a lesson-by-lesson basis, and come as often or seldom as you like. Many people have found it valuable to come for a single long lesson, travelling from as far as Sweden, Greece and the USA.
Fiddle Lessons on Skype ; I've recently also started giving lessons by Skype. For this to work you need skype on your computer, a broadband connection, and also band in a box (if you're learning jazz). The sound quality isn't great, but it works quite effectively. You can pay for lessons by paypal. If you're interested in this, we can arrange a free 15 minute taster session to make sure all the hardware works ok.
Workshops;
I give workshops in schools, at festivals and every year at the London Fiddlers Convention. I have done educational tours for Folkworks, and was involved in a long series of school performances by Mike Adcock's Last Dance Orchestra, funded by the national Lottery. I have taught jazz violin at Middlesex, Newcastle,and Brunel Universities and Truro College, and have been booked regularly as tutor at "Hands On" fiddle weekends (Fiddles@Witney), at the Fiddle Festival of Great Britain, at the Bristol Hibernia Fiddle Group, and at the Wigmore Hall. Workshop subjects include improvisation, swing, klezmer fiddle, East European fiddle, Western Swing and composition of fiddle tunes.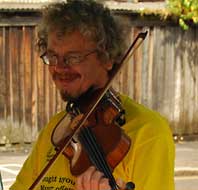 Email me : Chris@fiddlingaround.co.uk