__________________
About Myself (Chris Haigh), and the bands I work with
__________________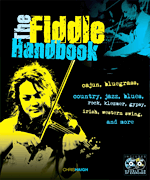 Chris Haigh- a fiddle without a cause!
I started playing violin at the age of seven, and laboured with little success for ten years until I discovered that, for me at least, fiddle music could be a whole lot more fun than classical music. Promising careers in geology and teaching were recklessly abandoned, and I began a lifelong search for the most obscure, unpopular and uneconomic niches of the musical world to which I could devote my limited abilities. Things began well when I started playing fiddle with progressive rock band Speedy Bears and jazz-rock band Inner Ear, just as punk was at its height in the mid 70's. Encouraged by the total failure of the former band, and being sacked from the latter, I progressed backwards and downwards through traditional folk and bluegrass, stopping just short of New Orleans jazz, where I would undoubtedly have spent an eternity in the unmerciful flames of hell. Bankruptcy and destitution caused a radical change of direction, and I started demanding money for my services, instead of paying people to listen to the dulcet tones of my fiddle.
Ignored!
I then embarked upon a long and illustrious career as a sideman in a hundred anonymous function bands, and I've done weddings for Rupert Murdoch and Earl Spencer, garden parties for Elton John and Sting, Birthday parties Princess Anne and Neil Innes, and a Christmas party for Paul McCartney
Over the years have been ignored by, underpaid by, or asked to turn down by, a glittering array of notables including Prince Charles (who talked all the way through our performance!) Jefferey Archer, Tony Blair, Princess Diana, Kate Middleton, Tom Hanks, General Patraeus, Naomi Campbell, Richard E Grant, Michael Gove, Andrew Lloyd Weber, Lord Rothschild, Michael Caine, Kylie Minogue, Judie Dench, Brian May, Muhammud Al Fayid, Barbara Cartland, Ruby Wax, Princess Michael of Kent, David Frost, , Zara Phillips, David Beckham, Kate Winslett, William Hague, Uri Geller, Chris Evans, Terance Conran, Michael Howard, Michael Portillo, Lord Owen, the cast of East Enders, and Adolf Hitler. OK, I made the last one up.
Session fiddler for hire
Over the past twenty years I have played and recorded with a motley crew of musicians, from pop and rock artists such as Bob Geldof, Alison Moyet, Michael Ball, The Quireboys, and the sadly missed teen idols Steps (I'm proud to have played on 5,6,7,8..once voted one of the UK's most hated singles of all time!), the off-the page trip-hop of Morcheeba to the Goth-Rock of All About Eve and the chicken-head biting rock excesses of David Soul and James Galway. Desperate for some semblance of credibility, I began working with the impossibly eclectic Zumzeaux, and bluffed my way into the sublime Malian grooves of Oumou Sangari, the world music fusion of Najma Akhtar, and the Russian rock of Boris Grebenchikov.
Here's a discography, with around 85 albums I've played on.
You can hear clips from a few of these sessions here:

I got into swing working with Ricky Cool and his Western Swing Allstars, with Diz Disley, Le Jazz, The Hot Club of London, Robin Katz, the QuecumBar Allstars and the Kimbara Brothers. I explored jazzgrass with my own group Spice Trade, and the further limits of blugrass with the Daily Planet, Southern Exposure, The Wagon Tales, and The Coal Porters. I played Jewish Weddings and Bar Mitzvahs with Stewart Curtis, Gilad Atzamon, Ben Morris, Dave Bitelli, Danny Shine's Neshama, Yuval Havkin's Kedma Band, The Gilev Showband, Eli Tamir, the Matzoh Boys and Klezmania. I bluffed my way into Russian and East European folk playing with Vladimir Asriev, Igor Outkine, Serguei Pachnine and Zvuk Bazaar. Polish music with Katy Carr and the Aviators. I played Indian Jazz fusion with S.Harikumar, and the Jyotsna Srikanth Project; I filled in for NetiVaan with Companions of The Rosy Hours (including playing Paul McCartney's Christmas party!) and with Bill Caddick's Urban Legend. I sampled some Scandinavian avant garde with Andrew Cronshaw, Mike Adcock and the Norwegian band Utla, and bluffed my way into Indian film music with Diwana Arts. I played medieval banquets with Dragonsfire; Scottish ceilidhs with Kafoozalum; tried some East African Jive with the Rift Valley Raiders; mixed celtic and jazz with Carmina, rock and celtic with Bob Geldof; blues and celtic with Brendan Power, blues and Cajun with Short Fuse; blues and folk with Jenny Beeching , blues and more blues with Hans Theesink; Mexican and Salsa with Trio Azteca and Los Charros; Honky Tonk with Marc Robinson and the Drifting Cowboys; western swing with 9 Gallon Hat and The Steve&Ben Somers Country Band ; country and rock with Debbie Nunn, Crazy Hearts, Tender Mercies, Audio Murphy and The Brokovitch Band; Country and Irish with Two Loaves Eddie and Acoustica: Zydeco and Rock and Roll with Chris Jagger; Zydeco and Old Time with Gumbolala; I played an Irish wedding with Cara Dillon and Davey Spillane, and recorded some tasteful Irish dance tunes with Shamrock (their 3-million selling "Tell Me Ma" was dubbed worst single of the decade in the NME!). I play in the rock covers bands Rollercoaster and Cheesecake, adding delicate and tasteful violin parts to such gems as Highway to Hell, Teenage Dirtbag and Gay Bar.
In 2008 I was credited as "featured musician" on the BBC series "Billy Connolly-Journey to the edge of the World'- where the fabulous scenery of the arctic circle was portrayed with bluegrass, country and celtic music. In 2012 I appeared in the BBC4 TV Timeshift documentary on Klezmer, narrated by Michael Grade. My fiddle was featured on the BBC series "Wild Shepherdess" with Kate Humble, and on the 2013 Hairy Bikers series. I played on the backing of Little Mix singing a spoof country version of Black Magic on the Ant and Dec show. In 2016 my fiddle was heavily featured on the Chris Tarrant show "Ice Train to Nowhere", set in Alaska.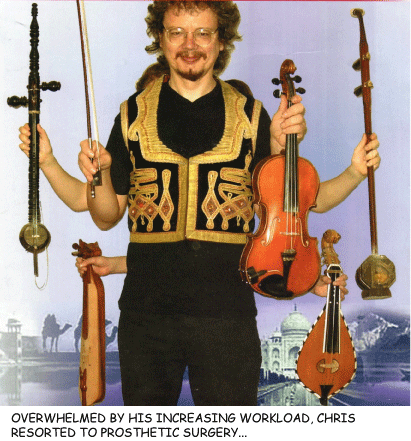 Writing music for the fiddle
I specialise in writing instrumentals in specific folk and other acoustic genres, and my compositions have been recorded by Jenny Beeching, Zumzeaux, Spice Trade, the Kimbara Brothers, Tziganarama and Diz Disley. I have written and recorded four complete albums of TV production music; English Folk, Scottish Folk, Klezmer, and Eastern European Folk. The latter is also available as a commercial album under the title Tziganarama. Tracks from these albums have been used on over three hundred different films and TV programmes around the world; one tune has been licensed for a global ad campaign by Nike; my tunes have also appeared on The Archers, East Enders, Angel, Malcolm in the Middle, Rosanna, Jeopardy, Emmerdale, Guinness world of Records etc.
I was the winner of a national competition to write a theme tune for the Sidmouth Folk Festival (I'm not sure that anyone else entered!)
_________________________________________
Among the more unusual and entertaining gigs over the years have been playing a birthday party on the Orient Express, a Burns Night in Iceland, playing Russian music for the Mafia in Beiruit, playing for Princess Anne's birthday party: playing Italian mandolin for a marriage proposal in Rome, playing for cossack dancers in Elton John's back garden, playing for a line-dance in the French Alps, and doing a Jewish wedding in a pine forest in Athens. Early in 2010 I appeared in an episode of the sitcom My Family as a Mariachi musician. Nice hat!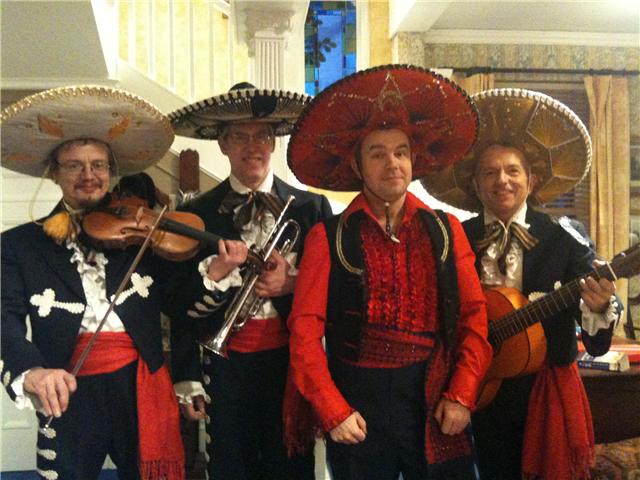 Other TV and film jobs have included appearing in pop videos with Lana Del Ray and Jessie Ware, on The Barrymore show, The Big Breakfast, a water privatisation advert (did great things for my political credibility in the 80's!), and in the film Snow White and the Huntsman.
Philately will get you nowhere- who's the fiddle player on the 50p stamp?
In October '06 the Royal Mail did a series of stamps called "Sounds of Britain", designed to represent the cultural diversity of Britain through its music. Alongside such styles as drum'n'bass, banghra and blues was a Celtic stamp, featuring a harpist and a fiddler. I was lucky enough to be that fiddler on the 50p stamp! I'd like to think this was in recognition of my services to fiddle playing, but sadly it's more due to the fact that this site, and hence myself, are very easy to find in Google. Plus, the fact, apparently, that I look like an Irish fiddle player is supposed to look.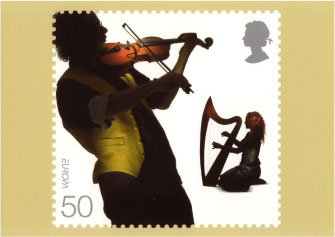 Here I am playing Stevie Wonder's Sunny at the London Fiddle Convention:
Email me : Chris@fiddlingaround.co.uk