MENU TO FIDDLE
STYLES:
VISIT THE FIDDLE CHANNEL FOR FREE FIDDLE LESSONS, TUTORIALS, AND WORKSHOPS!
Western Swing fiddle

| | | |
| --- | --- | --- |
| | | |
| Never was there such an unlikely but gloriously rich musical hybrid as Western Swing. Combining the infectious swinging urban dance rhythms of 30's and 40's jazz with the "down home" sounds of rural Texas, a new and exciting style was created in which the fiddle played a challenging and pivotal role. If there is one name which personifies Western Swing, it is that of fiddler and bandleader Bob Wills. | | |
| | | |

Born in Turkey, Texas in 1905, Bob Wills was brought up in a family of no less than 17 fiddle players. He started off as a "breakdown" fiddler, playing the standard "old timey" Texas repertoire of reels and polkas, but was strongly influenced by the blues of the neighbouring black fieldworkers, by the local Mexican fiddlers, and by the jazz which was widely heard on radio broadcasts. His first band was a duo with guitarist Herman Arnspriger; they were soon joined by brothers Milton and Durwood Brown (on vocals and guitar respectively). At that time, to achieve any success a band needed both a radio station and a commercial sponsor; they were taken on by radio KFJZ in Fort Worth, and were given the name "The Light Crust Doughboys" by their sponsor, the Light Crust Flour Company

| | | |
| --- | --- | --- |
| The Light Crust Doughboys | They was the first of a veritable stampede of bands to form in and around Texas over the next two decades. The music was all-inclusive, and as diverse as the people of the Lone Star State itself, including elements of Mexican , Blues, Hoe-down, German Polkas, Ragtime and Jazz, all played with a strong swing beat and aimed specifically at the dancefloor. | |

| | | |
| --- | --- | --- |
| In 1932 Milton Brown left the Doughboys to form "Milton Brown and his Musical Brownies", who quickly came to dominate the airwaves, and who numbered the gangsters Bonnie and Clyde among their regular fans. Milton added banjo, piano and bass to his band, along with Bob Dunn on electric steel guitar (the inventor of that bizarre instrument); he also had the first twin fiddle section of Cecil Brower and Cliff Bruner, both accomplished jazz fiddlers. | | Bob Wills |

San Antonio Rose
In 1933 Bob Wills formed the Texas Playboys; they stayed somewhat in the shadow of the Brownies until Brown's untimely death at the wheel of his car in 1936. Bob Wills then emerged as clear front runner, and with the addition of drums and a brass section to the Brownies' winning formula, he had a mighty band which could swing as well as the best jazz outfits of the day, but with a much broader repertoire. Wills wrote and recorded many of the essential standards of Western Swing, such as Faded Love, Maiden's Prayer, and the instrumental Big Beaver. His biggest hit was San Antonio Rose, the song which he claimed took him "from hamburgers to steaks!". It sold over a million copies, and has the unique distinction of having been performed in space by Allan Bean and Charles Conrad aboard Apollo 12!

There is a strong element of zany schoolboy humour running through the whole genre of Western Swing, and nowhere was this more obvious than in the Texas Playboys; Bob Wills, ever the showman, interspersed virtually all his recordings with insane cries of "aaah haaa!, such asides as "fiddle it out boy, fiddle it!" or even "Shoot low Sheriff, he's riding a Shetland!"

Though most of the repertoire of Western Swing was based around songs rather than instrumentals, the fiddle still played a central part in the arrangements. The melodies were often led by fiddles, usually twin fiddles playing in harmony or sometimes (as for example in some Spade Cooley recordings) in larger fiddle sections playing unison. Individual fiddlers would get to play short improvised fills between the vocal lines, swing solos (usually no longer than 12 or 16 bars), or pre-arranged riffs punctuating the melody.

A WHO'S WHO OF WESTERN SWING FIDDLE PLAYERS

Bob Wills himself was as an old-fashioned "breakdown" fiddler. When there was an old time fiddle tune it would usually be led by Bob Wills on the fiddle. He played with little swing and did no jazz improvising, though he had a slightly bluesey edge to his playing. Despite the title given to him by Merle Haggard, "The best damn fiddle player in the world" on his 1970 tribute album Wills was never even the best fiddle player in his band (unless he was the only one!) but his fiddling was nevertheless always very popular.

Jesse Ashlock was the first and longest-standing of Wills's fiddle players, and the first to do "take off" solos. He had a considerable armoury of techniques including the double shuffle, triplets, parallel fifths and lots of syncopation. He would sometimes go into third position, but not always with perfect intonation. Ashlock said of his playing "I try to do the same thing on fiddle that jazzmen do on a trumpet." He initially learned fiddle as a teenager, sitting in behind Bob Wills. His idol, apart from Wills himself, was pioneering jazz fiddler Joe Venuti, from whom he learned much of his technique. He would play some Venuti solos note for note. He was hired by Milton Brown in 1932 when he left to form the Musical Brownies, but joined the Texas Playboys after Brown's death.

Cecil Brower was a classically trained violinist. He never played country fiddle, but fully mastered the jazz idiom. He joined the Musical Brownies in 1933, forming the first harmonizing twin fiddle partnership in western swing, with either Jesse Ashlock.or Cliff Bruner.

Joe Holley was a hot and often frenetic jazz fiddler, much influenced by Stuff Smith , and did his first recordings with the Texas playboys in 1942. Being left-handed, he always added an elegant symmetry to band photos when sharing a mike with Wills. His solos would be introduced with "Aaaah Joooody!" You can hear him doing a great solo on "Twinkle Twinkle", including some blinding double-stop trills. He was one of the musicians who left the band with Tommy Duncan in 1948, though he returned on occasion in the 50's.

Louis Tierney was a great swing jazz player, smoother and more accurate than Jesse Ashlock.; he was with the Texas Playboys from 1940-1947.

Cliff Bruner was one of the few notable Texas swing fiddle players who did not play with Bob Wills. He quit cotton pickin' at the age of fourteen, and his first musical employment was with medicine shows. He joined Milton Brown in 1934, recording 48 sides with him; at the time this was the biggest western swing band around. Following Brown's death Bruner formed his own band The Texas Wanderers, moving from Fort Worth to Beaumont, Texas. In this band he played twin fiddles with J R Chatwell, (described by Johnny Gimble as a "gutbucket violinist"). He also worked with the Texas Governor Pappy O'Daniel's band, the Hillbilly Boys, and the Louisiana Governor Jimmie Davis. Fiddler Joe Holly (above) said of Cliff Bruner "Hey, I'll tell you what, I used to stand with my mouth open listening to that guy play! Lord, he was the greatest!" Bruner has led his own band ever since forming the Texas Wanderers, and is still playing today; on his most recent, instrumental albumhe plays twin fiddles with the great Johnny Gimble.

Johnny Gimble is considered by many to be the finest and most influential western swing fiddler of modern times. Born in 1926 in east Texas, he learned mostly by listening to the radio, for example to the Light Crust Doughboys' show. He was particularly influenced by Cliff Bruner's version of Draggin the Bow. He joined Jimmie Davis' campaign band in Louisiana, and during the war found himself in Vienna, where he developed an abiding love for the waltz. From 1949 he played for Bob Wills for two years , then in the early 50's he began doing studio session work, mostly for Columbia producer Don Law; he also did regular TV work, hosting his own show in Dallas for 3 years. Though a western swing player at heart, most of his work was in commercial country music; in Nashville in the 60's and 70's he was the first-call player, recording with, among others, Willie Nelson, Merle Haggard, Charlie Pride, Dolly Parton, Loretta Lynn, Tammy Wynette, Chet Atkins, George Strait. His playing is distinctive in its extreme smoothness and accuracy. He specialises in complex double-stop patterns, as exemplified in his compositions such as the Gardenia Waltz and Fiddlin Around, both of which have become challenging contest standards. From the 70's onwards he has emerged from the anonymity of session work and is recognized as a performer and artist in his own right, picking up numerous awards and Grammy nominations.

Western Swing fiddle technique

Double Stops are an essential feature of Western Swing fiddling, with the sixth note of the chord often highlighted. Dale Potter, who played fiddle with Hank Williams, is credited by many as the originator of double stopping and the instant creation of harmony fiddle lines. He also deliberately mimicked the riffs produced by the unusual tuning of the pedal steel. The use of fiddle harmonies a third above or below the main melody line can sound very sweet, and was perfected by Buddy Spicher, a noted session player in the 60's and 70's. More unusual double-stop harmonies can also be used to create a hard-edged dissonance which makes the ear prick up and gets all the fiddlers asking "how did he do that!" Master of such startling effects is Vassar Clements, better known as a bluegrass player, though he did record with Bob Wills. The seemingly-impossible triple stop is often used by Johnny Gimble, who joined the Playboys in 1949. His tune Fiddling Around is a masterpiece of double and triple stopping which will get you into any party, but will also have your neighbours hammering on the wall whilst you're trying to learn it.

Johnny Gimble


The higher positions on the fiddle are frequently used, and the chord progressions, whilst simpler than those used in mainstream jazz, are a lot more complex than those found in old-time fiddling. Diminished and augmented licks are often used, along with arpeggios boldly going into the flattened 7th, 9th, 11th and beyond, (sometimes never to return!). The vocal yodel, a feature of the singing of Hank Williams, is imitated by many fiddle licks. Phrases are often rounded off with an exaggerated wide, fast vibrato which would get you fired from the band in almost any other style.

Western Swing fiddle history and technique is closely related to Texas Swing, also known as contest fiddle style. Here's a section devoted to Texas Swing

Like some mythical Texas El dorado, Western Swing virtually disappeared into legend when Rock and Roll swept across America through the fifties and sixties. It would have been all been all but forgotten were it not for a new generation of bands which have sprung up and which, albeit on a smaller scale, have both recreated and pushed forward the genre. Such bands include Commander Cody and his Lost Planet Airmen, Dan Hicks and his Hot Licks, and Asleep at the Wheel, whose debut album in 1973 featured no less than three great Western Swing fiddle players- Johnny Gimble, Buddy Spicher and Andy Stein.

One of the most recent western swing-influenced bands to appear is the Hot Club of Cowtown, featuring the swinging fiddle of Elena Fremerman, whilst a special mention for one of the best band names around has to go to the Milwaukee based Western Box Turtles, with Danny Smith on fiddle.

HERE IS AN ARTICLE I WROTE COMPARING AND CONTRASTING BLUEGRASS WITH WESTERN SWING

Links:

Chris Haigh is a freelance fiddle player based in London. He plays jazz and Western Swing fiddle styles, and gives lessons and workshops in these styles. He was a member of Ricky Cool and his Western Swing Allstars, and now runs his own Eastern Western Swing band, The Kremlinaires. He works with the Brockovitch Country Band, and with UK pop/country artist Debbie Nunn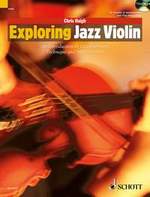 The Fiddler's Fakebook
This collection is described as "the ultimate sourcebook for the traditional fiddler". Certainly if you're interested in Western Swing, bluegrass and old timey fiddling this is the book for you, though there is also a fair selection of Irish, Scottish, Shetland and French Canadian tunes.

The spiral binding makes it easy and practical to use, as does the relatively large music font. Unlike a book like O'Neills, there are chord symbols, and the author David Brody has taken the trouble to give you the key; since many of these tunes are modal (eg A Dorian, E Aeolian), this is very helpful. Also valuable is that each tune is listed by genre (old-time, Irish etc), by type (reel, hornpipe), and by tuning where appropriate (eg AEAE). For every tune there is also a list of recordings, and the alphabetic arrangement makes it easy to find a tune if you know what you're looking for. There is a short section at the beginning introducing and explaining these different classifications.

Many of the tunes are well known standards, but there also some rarer gems, such as one or two David Grisman "Dawg" tunes and some excellent contest-style numbers.

Western Swing Fiddle

Stacey Phillips kicks off this book with a brief introduction to the origins of Western Swing, followed by some crucial notes on swing bowing.. Then we get nearly 100 transcriptions of fiddle solos from Joe Venuti, Stuff Smith, Bob Wills, Jesse Ashlock, Cecil Brower, Cliff Bruner, Louis Tierney, Joe Holley, JR Chatwell, Johnny Gimble, Vassar Clements, Bob Wills himself and many others. There is valuable analysis of phrasing, the deliberate use of dissonance, slides and double shuffles. He has interviews with fiddlers such as Cliff Bruner, Bobby Bruce and Johnny Gimble.

Phillips covers a wide range of material, from a Venuti transcription circa 1928 to some Merle Haggard from 1985. There are standards here, such as Corrine, Corrina, Take me back to Tulsa, Miss Molly, Maiden's Prayer and San Antonio Rose, as well as more obscure material. Most are for single fiddle (with guitar chords), but there are also several twin and even triple fiddle transcriptions. Sight-reading of other people's solos can be tough going, and Phillips has kept most of them mercifully short, often only 12 bars long, enough to teach valuable lessons on technique without labouring the point with unnecessary detail.

Altogether a unique and invaluable book for anyone wanting to master the technique and feel of Western Swing fiddling.

Take Me Back to Tulsa

A remarkable 4 CD collection of Bob Wills recordings from 1932 through to 1950; with over 100 tracks, this box set is great value. It is also lovingly presented with a 50-page booklet including full recording details of every track, and a detailed, illustrated biography. There are everything from 4 to 16-piece bands, including most of the fiddle players he used over the years.

There's no better way than a collection like this to get to know the Western Swing repertoire, the feel of Wills' arrangements, and the sheer fun of his performances.